Podcast: Play in new window | Download
Subscribe: Apple Podcasts | Google Podcasts | Spotify | Stitcher | Email | TuneIn | RSS | More
"It's really gratifying now to see companies, for the first time in many cases, realize that there is an opportunity to work hand-in-hand with patient leaders," David Goldsmith reflects on the different use cases for patients to help solve complex challenges across healthcare. "These companies view the patient leaders as true partners in helping them address healthcare challenges and value the expertise patient leaders bring with their patient experience in helping these innovations get to market."
Are you a healthcare organization or solutions provider that is looking for the patient's voice to help guide your program or innovation, but don't know how to find the right patient to ask? Or are you a patient with skills or expertise that believes that can help solve some of the challenges we face in healthcare? If you fall in either of these categories, this podcast is for you. Listen to David Goldsmith, Chief Strategy Officer of Wego Health discuss the use case for patient experts across healthcare, what kind of expertise and reach these patient leaders possess and how WEGO Health Experts helps connect both the organization and the patient on a variety of use cases. All this and more on the latest Patient Activation Network Podcast.
About David Goldsmith
David has spent his career working at the intersection of technology and social change. Following his wife's diagnosis and treatment for breast cancer, he became a passionate advocate for patient empowerment and connected health. As chief strategy officer, David works to identify new ways for WEGO Health to bring meaningful value to our patient network, as well as to health care organizations and life sciences companies that can benefit from patient leaders. David is a Healthbox mentor and has served as an advisor to Stanford University's MedicineX conference and the SXSW Healthcare Accelerator. David lives in Salt Lake City where he can be found skiing, mountain-biking and hiking with his labrador retriever, Izzy.
About WEGO Health Experts
WEGO Health Experts is the first digital matching platform that connects healthcare organizations with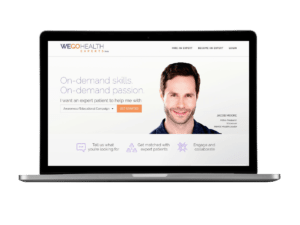 Patient Experts on demand. When companies collaborate and hire Patient Experts, with strong professional backgrounds and deep experience navigating the healthcare system, the impact on healthcare can be profound.
Episode Details
About David Goldsmith
How becoming a caregiver launched a new career
How talking with other experienced patients can improve your care path
The value of peer support in navigating a really complex, frightening diagnosis
Impetus to join Wego Health
About Wego Health Experts
What is a Patient Expert?
What are different use cases for patient experts across healthcare?
What are three common characteristics that make a patient expert?
Steps to becoming a Wego Health Expert
Contacting Wego Health to learn more
Closing Thoughts
Related Links